March 20, 2017
K-State has most beautiful campus in Kansas
Submitted by Communications and Marketing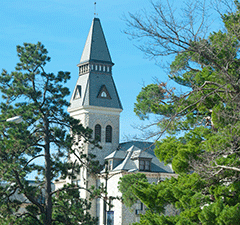 Which college is the fairest of them all? According to Travel + Leisure, Kansas State University is the most beautiful college in Kansas.
The resource provides travel tips, ideas, videos and rankings from around the world. For this list, it selected the most beautiful college in each state based on several criteria:
Setting and scenery.
Building design.
Upkeep of campus grounds.
Kansas State University was selected because of its extensive green space — more than 2,000 acres — and limestone buildings.
The recognition comes during a time of transition, as many areas of campus are under construction. Current and recent construction projects include:
• Seaton Complex, which houses the College of Architecture, Planning & Design.
• The K-State Student Union, which was recently ranked as the No. 1 union in Kansas.
• The Berney Family Welcome Center, which recently was the Judges Choice winner for state building awards by the Associated General Contractors of Kansas Inc.
• Engineering Hall, which was runner-up in the contest held by the Associated General Contractors of Kansas Inc.
• Wefald Hall, Housing and Dinning Services' newest residence hall on the Manhattan campus.
"It's not surprising to us that K-State was selected as having the most beautiful college campus in our state," said Pat Bosco, vice president of student life. "It's the sensation we all experience driving into Manhattan from any direction — the valley, lots of native limestone and grasses, and all things purple."