March 20, 2017
Hospitality management faculty and students attend, present and win at CHRIE conference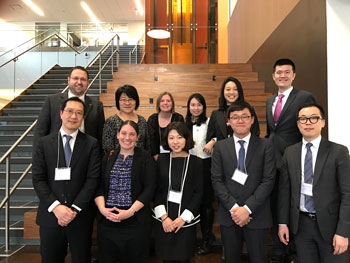 Junehee Kwon, associate professor of hospitality management, and Eunhye Park, graduate student, earned a best paper award, in collaboration with Bongsug Chae, professor of management, for "Customers' perceptions of green practices in green restaurants: What do customers share after dining in green restaurants?" at the second Central Federation CHRIE Conference, March 3-4, in Stillwater, Oklahoma.
Four faculty and seven doctoral students from the hospitality management department also presented three poster presentations and five standup presentations at the conference. Faculty members included Jichul Jang, assistant professor; Kwon; Kristin Malek, assistant professor; and Kevin Roberts, associate professor and interim department head. Doctoral students included Michelle Alcorn, Woohyuk Kim, Xiaoye Li, Hyung Hwa Oh, Eunhye Park, Chen-Wei Tao and Wenhao Zhang.
In addition, Kwon participated in a panel discussion on research and grantsmanship and Malek participated in a panel discussion on teaching, which was led and moderated by Roberts. Both Roberts and Malek serve the Central Federation CHRIE as board members.