March 15, 2017
A letter from interim Associate Provost for Diversity Zelia Wiley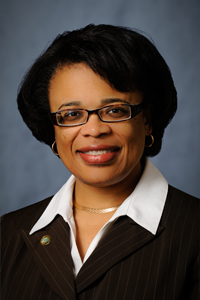 Dear K-State family,
March has roared in like a lion and nonetheless our programming efforts have been just as energetic to our communities. The Office of Diversity would like to thank our university and the Manhattan community for attending the myriad of events for the 2017 Dr. Martin Luther King Jr. Observance Week. You made it worthwhile and made our theme a reality by "Witnessing the Dream" in your own way. We applaud our three campuses for their efforts to guarantee success for the 2017 week. Next year will serve as the 50th year of Dr. King's speech on campus and we will plan for a grand celebration. Please send your ideas to our office and plan to join the committee as we plan.
We moved into February and Black History Month in grand style with the presence of Dr. Angela Davis, activist, scholar, feminist and a revolutionary who served as the month's keynote speaker. Many traveled local and from across the state to witness and absorb a dynamic speech to move us in the direction of community. We thank our award-winning Black Student Union, or BSU, and other sponsors for bringing Dr. Davis to our campus and for hosting a month of meaningful activities. Earlier in the day, the Office of Diversity hosted 69 students for the first College for a Day Institute of 2017. The students were from Wichita, Kansas City and Topeka who were members of the Youth Entrepreneurs organization. Thanks to our corporate sponsor, KOCH industries, and colleges of Engineering and Business for sponsoring the academic sessions for the successful Project IMPACT effort.
The diversity office continues to support our MSO groups through professional development. Hats off to our Hispanic American Leadership Organization, or HALO, for successfully participating in the United States Hispanic Leadership Conference in Chicago. The office was pleased to support 13 HALO students along with advisor, Mirta Chavez, and project coordinator, Caitlyn Wells. This partnership is vital to the continued success for our annual Encurento during Hispanic/Latino Heritage month.
We congratulate the Black Student Union, or BSU, and their advisors as they were awarded the Clarence Wine Award for Outstanding Big 12 Council of the Year at the 40th annual Big 12 Conference on Black Student Government at the University of Texas at Austin. This year's theme was "Making the Movement Matter." It is the ninth time in the last 12 years that our BSU has earned this award. To add to the K-State pride, Justice Davis, College of Business alumna, and Justine Floyd, College of Agriculture alumna, presented a leadership workshop for their employer and our corporate partner, Hormel Foods, during the conference with raving reviews. As you can see, the K-State Family was well represented and had much success at this conference. Congratulations, again!
On Feb 18, we supported the Midwestern Native American Student Leadership Summit at the K-State Alumni Center Ballroom. From Emporia State University, Haskell Indian Nations University and most importantly, our own Indigenous Alliance and American Indian Science and Engineering Society, we sponsored and hosted this successful summit that benefited all who participated.
To continue our celebration of Black History month, we hosted the fourth annual Statewide BSU leadership conference in the K-State Student Union. Our keynote speaker was Dr. Kevin Rome, president of Lincoln University, an 1890 land-grant institution in Jefferson City, Missouri. More than 300 students from Wichita, Topeka, Junction City, Salina, Olathe and the Greater Kansas City area attended the talk. Thanks to their advisors and special thanks to our faculty, staff and students who made this conference a success.
As we roar into Women's History Month, the support for inclusion and diversity programs continues. Thanks to the American Association of University Women, or AAUW, for an exceptional program on March 8 to recognize women and their success on International Women's Day. It was a great partnership with AAUW, city of Manhattan, and Manhattan-Ogden USD 383.
In all of our efforts, we have not left out diversity training for our faculty and staff. Thanks to partnership with K-State Research and Extension, Kansas Louis Stokes Alliance for Minority Participation, or LSAMP, we have been able to support three diverse sessions to increase the diversity awareness and efforts to assist in the navigation for positive conversation.
On March 16, we encourage you to support, the gender, women and sexuality studies department as they bring the world renowned athlete, Jackie Joyner-Kersee who has been named by Sports Illustrated as "the greatest woman athlete of the 20th century." Please join us as we attend the daytime lecture at 10:30 a.m. in the K-State Union Ballroom. Thanks to all university groups for sponsoring this phenomenal speaker who you do not want to miss!
We also support the Asian American Student Union, or AASU, as they celebrate Asian Pacific Heritage Month. AASU will host several free events, including K-Pop dance lessons and food sampling at the Taste of Asia event, that can be enjoyed by all.
Finally, at the end of this month, we will observe Cesar Chavez's birthday on March 31 and I would like to close with his quote, "Preservation of one's own culture does not require contempt or disrespect for other cultures." Let us continue to be respectful to all as K-State moves forward in the area of inclusion and diversity.
Thanks to all of you for supporting our diversity programs and for the the Office of Diversity staff for their work in making it possible.
Sincerely,
Zelia Z. Wiley, interim associate provost