February 28, 2017
K-State Inline Hockey Club repeats Great Plains regional title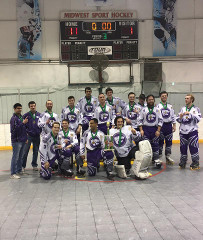 The K-State Inline Hockey Club participated in the Great Plains Collegiate Inline Hockey League's playoffs in St. Louis.
Due to our great season, we were granted a bye in the early rounds of the playoffs. The team faced Central Missouri State in a semifinal round on Feb. 26, defeating them 6-0 to advance to the finals. Illinois State won the other semifinal to setup up a late evening game for the championship. K-State came to play and made a statement with an 11-1 win to become regional champions for the second year in a row.
At the end of the regular season, team captain Jake Schulte led the region in goals and points. His younger brother, Sam Schulte, was No. 2 in assists and No. 3 in points. On top of that, the team goalie tandem of Nick Steiner and J.R. Cook were rated No. 1 and No. 2 in the region in goals against and save percentage.
The K-State Inline Hockey Club thanks all of our family, friends and fans for their unwavering support as we achieved a 14-2 regular season record and an undefeated streak through the playoffs. We now set our sites on the National Collegiate Roller Hockey Association's National Invitational Tournament to take place the week of April 2 in Fort Myers, Florida. The top 20 teams in the nation will compete to crown a national champion. K-State is currently ranked No. 4 in the nation and I believe we have a great chance to achieve our first national title.
Jerry Remsbecker
K-State Inline Hockey Club
Faculty adviser and coach