February 15, 2017
President Myers writes about sportsmanship
Submitted by President Richard Myers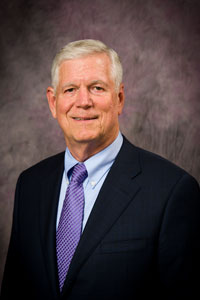 As the first year of my presidency unfolds, I continue to be even more impressed by the wonderful accomplishments of our students, faculty and staff. I hear daily about a student's accomplishment or a faculty member's significant research. What a pleasant surprise to discover our university is even better than I knew. This is why I decided to compete to become your president.
One surprise that has not been pleasant is hearing a vulgar chant at sporting events targeted at our in-state rival. It's easy to see how one can get caught up in the moment. However, many of my friends across the nation reached out to me following last week's men's basketball game and expressed their dismay. The chant was clearly heard from coast to coast on national television. It was personally embarrassing and not what one expects from a world-class university.
The strength of the Wildcat family lies in passing our legacy from one generation to the next. K-Staters are known for doing the right thing. Whether our fans are 8, 18 or 80, they deserve the best fan experience in the Big 12. I think about those younger fans sitting in the stands or watching on television and know they represent our next generation. As we continue the spring competition season, let's show them the Wildcat Way.