January 27, 2017
K-State Inline Hockey Club to host exhibition hockey tournament Jan. 28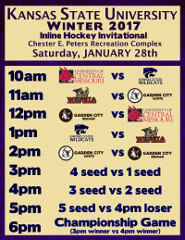 The K-State Inline Hockey Club will host a hockey tournament Saturday, Jan. 28, at the Chester E. Peters Recreation Complex.
Currently, K-State sits in first place in the Great Plains Region of the National Collegiate Roller Hockey Association with an 8-1 record at the halfway point of the season. Local teams from Garden City, Wichita and the Central Missouri Mules will participate in the exhibition inline hockey tournament Jan. 28.
The tournament will be a tuneup for the K-State team before their season resumes Feb. 11 in St. Louis, with games against Maryville University, St. Louis Community College and Lindenwood University. The final interregional tournament will be Feb. 24-25 at the Rec Complex and will include 12 college teams from the Rocky Mountain, Southwest and Great Plains regions of the National Collegiate Roller Hockey Association.
Jan. 28 game schedule:
10 a.m. Central Missouri vs. K-State
11 a.m. Wichita vs. Garden City 1
Noon Garden City 2 vs. Central Missouri
1 p.m. K-State vs. Wichita
2 p.m. Garden City 1 vs. Garden City 2
3 p.m. fourth place vs. first place
4 p.m. third place vs. second place
5 p.m. loser of 3 p.m. vs. No. 5 seed
6 p.m. winner of 4 p.m. vs. winner of 3 p.m.
All games are free and open to the public.
The team looks forward to continuing their pursuit of a second consecutive regional title, and a bid to the National Tournament for the sixth year in a row.
For more information, please contact Jerry Remsbecker, head coach and faculty adviser, at jremsbec@k-state.edu.