April 11, 2012
Sociology professor wins national teaching award through Continuing Education Association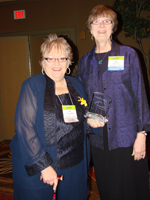 L. Susan Williams, associate professor in the department of sociology, anthropology and social work, was honored with the 2012 Excellence in Teaching Award from the University Professional and Continuing Education Association at the annual conference, March 28-30, in Portland, Ore.
This prestigious national award is presented to faculty members who have provided outstanding teaching, course development, mentoring of students and service to continuing education. Recipients of the award have made significant contributions to credit or noncredit programs and provide inspirational teaching to continuing education students. Williams is one of only two faculty to receive this honor from the association in 2012.
Williams is a strong supporter of distance education at Kansas State University, developing and teaching innovative courses both on campus and online, including Social Construction of Serial Murder, Death Penalty and Diversity in the Workplace. She is a featured contributor in the university's award-winning Distance Learning Video Gallery, where expert faculty provide insight into distance learning techniques and strategies.
The K-State Division of Continuing Education also awarded Williams with its Excellence in Teaching Award in 2011, recognizing her extensive contributions to distance learning and her role in teaching and mentoring distance education students at K-State.