January 23, 2017
'Cemetery Touch' exhibition by Trevor Bennett opens today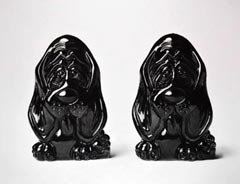 The K-State art department will present the exhibition "Cemetery Touch" by visiting assistant professor Trevor Bennett, Jan. 23–27, in the Mark A. Chapman Gallery in Willard Hall. The artist also will present a Gallery Talk at 5 p.m. Thursday, Jan. 26, in the Chapman Gallery, with a gallery reception to follow. Admission is free and open to the public.
Bennett was born in Little Rock, Arkansas, in 1984. He received a Bachelor of Arts from the University of Arkansas at Little Rock and a Master of Fine Arts from the New York State College of Ceramics at Alfred University. He has taught in Canada at NSCAD University and in the U.S. at Alfred University and the Maryland Institute College of Art. He is currently the visiting assistant professor of ceramics at K-State.
Bennett's work reflects on the sentimental value assigned to inanimate objects by their owners. The symbolism found within his inert menagerie suggests the perpetuity of the human condition in regards to life, death, addiction and commitment. "I want my drawings and sculptures to somehow reverse the roles of collector and collected," Bennett said.
The exhibition and Gallery Talk are presented and funded by the K-State Student Governing Association's fine arts fee, and is part of the art department's Visiting Artists Series for the 2016-2017 season.
The Mark A. Chapman Gallery, on the first floor of Willard Hall, opened in 2005. Cheryl Mellenthin and Mark Chapman funded a complete renovation of the former Willard Hall Gallery, increasing the exhibition space to over 1,400 square feet along with 400 square feet dedicated to exhibition preparation and kitchen facilities. The art department hosts Bachelor of Fine Arts and Master of Fine Arts student exhibitions in the gallery as part of graduation requirements each semester. The technology friendly gallery serves not only exhibition purposes, but also provides a location for an active Visiting Artist lecture program.