January 23, 2017
Commit to be Fit Challenge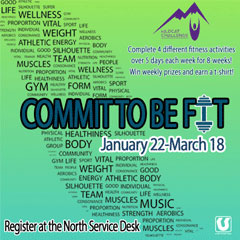 K-State Recreational Services and the K-State Student Union are sponsoring Commit to be Fit Challenge Jan. 22-March 18.
Free registration for the eight-week challenge is available at the Rec Complex's north service desk and is open to all Rec Complex members.
Participants must complete four different activities over five days each week. A minimum of 30 minutes of activity at a Rec Services facility or bowling at the K-State Student Union is required for the challenge.
Activities can include any of the following:
Participating in an intramural game.
Participating in a sport club practice.
Bowling at the K-State Student Union.
Swimming.
Climbing.
Attending a group fitness class.
Running.
Walking.
Lifting.
Racquetball game.
Basketball game.
Volleyball game.
Boxing.
Cycling.
Strength core training.
Cardio training.
Working with personal trainer.
Other.
After signing up at the north service desk, participants will receive an email with a link to the Qualtrics survey to track activity.
Participants will receive an email each week to submit activity for that week. Participants must submit the survey each week to be entered into the weekly drawings and to complete the challenge.
Participants who complete the challenge will receive a Wildcat Challenge T-shirt.