January 20, 2017
Craig Beardsley elected chair of Riley County Law Board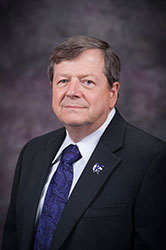 Craig Beardsley was selected chair of the Riley County Law Board at its meeting this week. Beardsley, a program administrator at K-State's National Agricultural Biosecurity Center and the university's facility security officer, has served as a citizen-at-large member of the board for two years. He will serve two years as chair.
The Riley County Law Board is an oversight committee for the Riley County Police Department. The board approves expenditures of the police department, is responsible for hiring or firing of the department's director, and provides suggestions and direction to the director. The board comprises one city commissioner; two citizens-at-large from Manhattan; the Riley County attorney; one county commissioner; one citizen-at-large from Riley County; and a member of either the Riley County or city of Manhattan governing body, which is determined on a rotating basis. The board meets monthly.
Beardsley's selection marks the first time an at-large member has served as chair.
"It isn't often that I have the opportunity to apply the skills obtained through my military service to serving the public interest. I am honored to have been appointed by the Riley County Commissioners as a citizen-at-large and then elected to serve as the chair. Citizen involvement in all aspects of city and county government is very important in a well-functioning city or county, and I am proud to be part of the citizen involvement," Beardsley said.
Beardsley has more than 45 years of planning and operational experience with the military and working with federal, state and local first responders, law enforcement, and emergency management through the Kansas National Guard. He serves as co-principle investigator on National Agricultural Biosecurity Center projects with the U.S. Department of Defense and the U.S. Department of Agriculture and is principle investigator on Kansas National Guard projects. As facility security officer, Beardsley manages K-State responsibilities under the National Industrial Security Program.