January 20, 2017
K-State community contributes gifts for 2016 Center for Child Development Giving Tree Project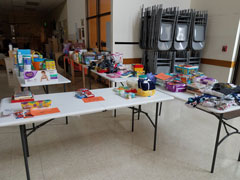 The K-State Center for Child Development teachers, nearly 200 children — ages 6 weeks to 6 years — and parents extend their appreciation to those in the K-State community who purchased a 2016 Giving Tree gift.
The Giving Tree project is conducted annually by the K-State Center for Child Development for four weeks, during the months of November and December. Some of the gift contributions included educational learning toys, rain boots, books, art supplies and many other necessary consumable supplies to provide a positive educational experience to our youngest K-State students.
Thank you for making a difference and helping teachers achieve learning goals for our youngest students.