December 21, 2016
KSDB-FM holiday schedule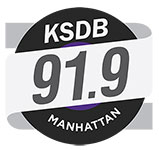 While the university schedule slows down during the holidays, KSDB-FM continues its service to the campus, community and the world. KSDB-FM offers news, weather and sports coverage.
In addition to regular music programming of alternative, jazz and hip-hop music, KSDB-FM features radio drama productions. An encore presentation of the original holiday-themed radio drama productions can be heard at 8 p.m. Dec. 24 and again at 8 p.m. Dec. 25.
The live "Classroom Series" returns in January as well as the daily "Open Mic" show from the KSDB-FM studio at the K-State Student Union.
KSDB-FM is on the air at 91.9 MHz, online and on mobile platforms for iOS and Android.