December 21, 2016
Caryl Lockhart joins College of Veterinary Medicine's Office of International Programs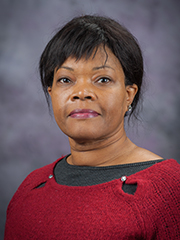 K-State's College of Veterinary Medicine has announced the addition of Caryl Lockhart to its diagnostic medicine and pathology department and international programs team.
"Dr. Lockhart will be working with international programs to assist with international outreach and engagement," said Keith Hamilton, executive director of the colleges' Office of International Programs. "Amongst her duties she will provide epidemiology support for international projects; develop and deliver epidemiology educational material for courses in International Veterinary Medicine; and strengthen linkages with key national and international partners, including the Food and Agriculture Organization of the United Nations."
Lockhart was previously employed as a veterinary epidemiologist by the organization's Emergency Centre for Transboundary Animal Disease in Jakarta, Indonesia, and its Global Early Warning Systems in Rome, Italy, since June 2009. During her time with the organization's Highly Pathogenic Avian Influenza, or HPAI, control program in Jakarta, she worked on the design, collection and analyses of HPAI disease and movement data from poultry farms, live bird markets and collector yards across the Indonesia as well as mentoring nationals to enhance the level of veterinary epidemiology skills.
During her time with the Food and Agriculture Organization in Rome, Lockhart was engaged in the activities of the organization's Global Early Warning Systems related to transboundary animal disease events — including zoonoses — monitoring and analyses, risk assessment and capacity building across Asia and Africa. She was originally employed by the Food and Agriculture Organization from 2003 to 2005 as regional epidemiologist at the Caribbean Amblyomma Programme in Antigua. Between 2005 and 2008, she earned a doctorate in veterinary epidemiology at Massey University in Palmerston, New Zealand.
Lockhart grew up on the Caribbean island of Commonwealth of Dominica. She attended Clifton Dupigny Community College in Dominica from 1989 to 1991. After a year of Spanish language training at the Universidad de Camagüey, in Camagüey, Cuba, she attended the Universidad Agraria de la Habana, in Havana, Cuba, where she earned a Doctor de Medicina Veterinaria degree in 1997. She also obtained a Master of Science in tropical livestock production from the Universidad Pedro Henriquez Urena, Santo Domingo, Dominican Republic, in 1999.
Lockhart worked as an animal health officer and veterinary and livestock officer for the Ministry of Agriculture in Roseau, Dominica, from 1997 to 2003. She has authored 12 publications and has organized various international short courses in veterinary epidemiology, and social network analyses for the Food and Agriculture Organization and other organizations. Her professional interests include epidemiological methods and practical application to animal health; disease surveillance, risk assessment, spatial epidemiology, infectious disease modeling and animal movements, and value chains.