December 13, 2016
Find dining options, meal plans and more on K-State Mobile app
Submitted by Communications and Marketing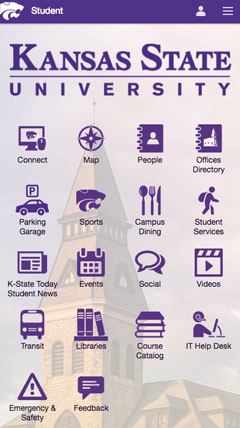 The new campus dining module in the K-State Mobile app allows users to view dining hall menus and hours, purchase meal plans, calculate calories and more.
On-campus dining options for faculty and staff include JP's Sports Grill at Jardine Apartments, Call Hall Diary Bar, The Cafe at Trotter Hall, the K-State Student Union and Cornerstone Coffee & Bakery in Wefald Hall and Jardine Marketplace.
Faculty and staff also can eat breakfast, lunch and dinner at Kramer, Derby and Van Zile dining centers, or purchase one of two meal plan options through the K-State app: 50 breakfasts or lunches, or 100 any time meals. The plans are purchased annually, and payment options include departmental invoice and payroll deduction.
Check your available meal plan or cat cash balances on the Connect website.
The mobile app also features:
Connect: Direct access to class schedules, email, calendars and more.
K-State Online: Access classes and course information.
Libraries: Virtually search the stacks and access research tools.
K-State Today: Keep up to date on the day's activities, news stories and more.
Emergency and safety: Updated with most recent campus advisories and warnings, as well as important campus phone numbers.
Sports: View athletic schedules and current news about K-State teams.
Social: Browse K-State's Facebook and Twitter accounts.
People and department directories: Look up and call phone numbers, see addresses and automatically connect to the map to navigate.
The K-State Mobile app is available on both the Apple App Store and Google Play.