December 6, 2016
K-State Choral Division announces 2017 Rhapsody scholarship concert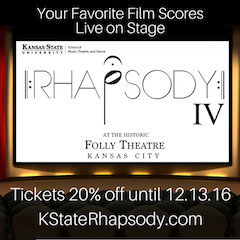 The choral division of the K-State School of Music, Theatre, and Dance has announced details for the fourth annual Rhapsody scholarship concert event with a special 20 percent discount on all tickets through Dec. 13.
Rhapsody IV — a movie music extravaganza — will take place April 23, 2017, at the historic Folly Theater in downtown Kansas City, Missouri. Featuring the K-State Grand Chorus of more than 100 singers and orchestra, Rhapsody IV will present highlights from films such as "Harry Potter," "Star Wars," "Lord of the Rings" and "The Matrix" series, as well as many others. Those in attendance also will be treated to a Hollywood-style red carpet entrance.
Since 2013, the Rhapsody series has raised more than $150,000 toward choral scholarships and performance opportunities for K-State students. Past productions have included Johannes Brahms' "A German Requiem" in 2013, Dan Forrest's "Requiem for The Living" in 2014 and Carl Orff's "Carmina Burana" in 2015.