December 1, 2016
K-State MBA student part of winning team in global X-Culture Competition
Submitted by Brent Fritzemeier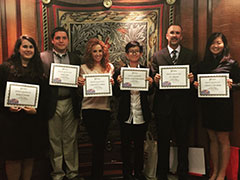 Cheryl-Lyn Ngoh, a Kansas State University graduate student in business administration, Kuala Lumpur, Malaysia, was part of a team of students from around the globe that won the 2016 X-Culture Symposia Case Competition, an international business strategy competition that saw entries from more than 4,000 students.
Ngoh first got involved in the X-Culture Competition as part of the curriculum of the Management 690 course in the College of Business Administration. Her work in the classroom saw her receive an invitation to the Southeast Academy of International Business meeting to take part in a case competition with fellow high-scoring students from around the globe. Of the more than 4,000 students who participated in the initial round of competition, only eight teams of six students were selected to move on to the final round.
Before attending the conference, Ngoh was assigned to a team of students who were tasked with developing solutions to real-world business challenges that came directly from SYKES, an outsourcing customer services company. After working collaboratively throughout the month leading up to the conference, the teams then met in Tampa, Florida, to present their findings to a panel of judges, who chose Ngoh's team as the contest winner.
"It was really challenging, especially when you factor in this project with all of my other school and work responsibilities, but it was a very beneficial experience," Ngoh said. "It gave me an opportunity to network with students and business professionals from around the globe and insight into the business consulting world."