December 1, 2016
College of Business Administration's Advising Assistants program offers peer-to-peer academic planning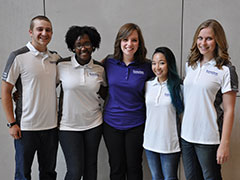 The College of Business Administration's advising assistants have visited with more than 200 students and helped 91 first-year students draft a long-range plan for their academic careers, as of early November. The program is in its third year.
The advising assistants work in tandem with the college's academic advisor team and provide an opportunity for students to meet with and learn from an experienced and successful peer student. In addition to helping students draft long-range plans, advising assistants explain how to use KSIS and DARS for academic planning and navigation and provide information about tips for enrollment and scheduling. They also share information about college and university activities and resources.
Advising assistants are housed within the academic advising and career development team in the College of Business Administration's Student Success Center and are available by walk-in from 8 a.m. to 5 p.m. Monday-Friday, email at cbaadvisingassistant@k-state.edu or live chat.
For more information, contact Miranda Cook, academic advising graduate assistant, at mmcook@k-state.edu.