September 21, 2016
Undergraduate student Adriana Meneses receives Carver Spirit of Innovation and Service award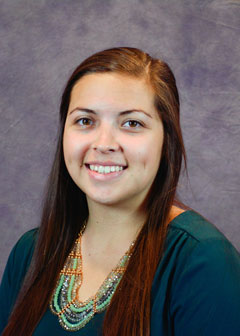 Adriana Meneses, junior in animal sciences and industry, Independence, Missouri, was the recipient of a Carver Spirit of Innovation and Service award Sept. 20 at Washington University in St. Louis, Missouri.
The award recognizes one undergraduate student from five universities who shows evidence of traits embodied by George Washington Carver including creativity, courage, dedication and whose achievements in their educational development inspire and motivate other students. Kansas is one of two states where Carver completed his elementary and high school education.
Students selected for the award must show determination and perseverance in their educational and life goals, strong academic performance in a scientific degree program, active involvement in research and professional ethics, demonstrated service to others for the betterment of diverse community, engagement in arts and humanities and/or represent the first generation in a family to attend college.
In summer 2016, Meneses worked as an intern with Cargill Turkey and Cooked Meats in California, Missouri. She will intern with Cargill Meat Solutions in Schulyer, Nebraska, in summer 2017.
Menesses is a member of Sigma Alpha Pi, Project IMPACT Scholar and president of the K-State Minorities in Agriculture, Natural Resources and Related Sciences, or MANRRS, chapter. She also was a member of the 2014 class of the Multicultural Academic Program Success, or MAPS, Bridge Program.