September 19, 2016
Center of Excellence for Food Safety Research in Child Nutrition Programs graduates 200th participant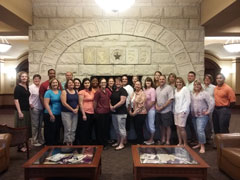 The Center of Excellence for Food Safety Research in Child Nutrition Programs hosted the 200th child nutrition professional at its Serving up Science: The Path to Safe Food in Schools program in early August.
The program is represented by alumni in 48 states: 127 professionals from school districts, 67 professionals from child nutrition state agencies and 15 professionals from the U.S. Department of Agriculture. Alumni of the program serve an average of 2.8 million school aged children daily. Program alumni have indicated that they use the knowledge gained during the course to reach an additional 12,000 individuals engaged in child nutrition programs.
"This is an excellent course, and it's been invaluable in assisting me in framing my decision-making and the training I do with my staff," said Diane Zipay, retired child nutrition director at Westside Community Schools in Lincoln, Nebraska.
Serving up Science is a weeklong program that provides advanced food safety training across the food chain specific to the school environment. Learning competencies include basic microbiology, foodborne risks in schools, safety plans, food safety communication, additives and insight about the production, harvest, and processing of milk, beef, pork, poultry, grains, fruits and vegetables. Structured field trips and laboratory experiences integrate the new knowledge with real-world application.
As a multidisciplinary program, colleagues in the College of Agriculture's animal science and industry department and communications and agricultural education department, present topics specific to their areas of expertise.
Fadi Aramouni, professor of animal sciences and industry, was an essential part of developing the Serving up Science program. Kevin Roberts, director of the center and associate professor of hospitality management, noted that the network of K-State food safety colleagues enriches the depth of knowledge and practical applications.
"I have to say that Serving up Science was one of the best trainings I have ever attended and the amount of information I walked away with was so valuable. Every instructor that presented was well informed and an expert in his or her field and that also made the difference," said Ernie Koschmieder, director of food services in the Groton Public Schools in Mystic, Connecticut. "Your staff was unbelievable, very professional, dedicated and made this training experience over the top."
Established in 2011 with funding from the USDA's Food Nutrition Service Office of Food Safety, the Center of Excellence for Food Safety Research in Child Nutrition Programs is located in the College of Human Ecology.
Leadership includes Roberts; Kevin Sauer, associate professor of food, nutrition, dietetics and health; Carol Shanklin, professor and dean of the Graduate School; and Jeannie Sneed, who retired from the university in 2015.
Center staff includes Paola Paez, research associate professor; Kerri Cole, project coordinator; and Michelle Alcorn and Tracee Watkins, graduate research assistants.