September 13, 2016
College of Education develops graduate certificate in qualitative research: open house Sept. 14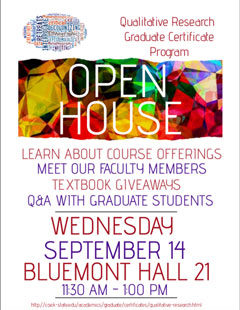 The College of Education is now offering a graduate certificate in qualitative research in response to the high demand for qualitative researchers at the national and international levels.
The certificate is an 18-credit hour program that is composed of online, hybrid and face-to-face classes and is appropriate for both degree-seeking and nondegree-seeking graduate students. Students will be exposed to various research designs and learn how to integrate the latest tools into qualitative inquiry. A strong emphasis will be placed on writing skills for interdisciplinary purposes.
For those interested in the certificate, an open house will be from 11:30 a.m. to 1 p.m. Sept. 14 in 21 Bluemont Hall.
Kakali Bhattacharya, associate professor of educational leadership and program coordinator, explained the growing interest in this specialized area of research.
"I don't believe there has ever been a greater need for trained qualitative researchers, especially in the fields of academia, public health, the nonprofit sector as well as business and marketing," Bhattacharya said. "We are very excited about this certificate because our program has several fundamental strengths when you consider the caliber of the faculty, the mentorship opportunities and the program's interdisciplinary approach."
For more information about the program, please visit the website or contact Bhattacharya for more information at kakalibh@k-state.edu.