September 13, 2016
A harmonious lineup announced for the Hale Library Concert Series
Submitted by Sarah McGreer Hoyt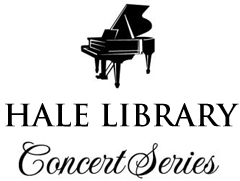 The Hale Library Concert Series enters its second decade with a lineup celebrating famous authors, a pioneering composer and classic favorites.
The first concert of the 2016-2017 season will be Friday, Nov. 11. Chris Thompson, baritone, and Robert Edwards, piano, will perform a recital of music by English and French composers.
These songs are settings of texts by Shakespeare and Cervantes in commemoration of the 400th anniversaries of their deaths. The superb and stylistic authority of each of these performers guarantees a memorable musical experience.
Additional Hale Library Concerts include:
Jan. 27: Amy Rosine, soprano; Karen Large, flute; and Amanda Arrington, piano, performing the music of composer Amy Cheney Beach.
April 28: Slawomir Dobrzanski, piano, and Ben Sayevich, violin.
June 9: Jazz in June.
All performances begin at 7:30 p.m. on Hale Library's fifth floor and include wine and dessert at a reception immediately following the concert.
Interested in becoming a sponsor of the Hale Concert Series? Contact Darchelle Martin at martin05@k-state.edu or 785-532-7442.
Tickets for the entire series or for individual concerts are on sale now at lib.k-state.edu/friends.