August 23, 2016
K-State Recreation Complex featured as Rec of the Week
Submitted by Division of Communications and Marketing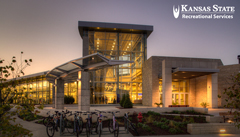 K-State's Recreational Services, which includes the Chester E. Peters Recreation Complex and the Natatorium, is featured as Rec of the Week by Campus Rec Magazine.
The 257,000 square-foot facility features 14 racquetball courts; two squash courts; 13 volleyball and basketball courts; two weight/strengths rooms; four group fitness studios; two indoor running/walking tracks; a combative room; personal training studio; locker rooms with saunas; a 40-foot climbing wall and bouldering rock; Quik Cats Café and a game lounge. Outdoor facilities include basketball, sand volleyball, tennis, racquetball and handball courts.
The Natatorium includes two 25-yard pools and diving well with a 3-meter and 1-meter boards.
With more than 50 group fitness classes offered each week during the semester — including, yoga, cycling and cardio — the fitness program strives to provide exceptional fitness programming to promote health and wellness to the K-State campus community.
Other facts about K-State's Rec Complex include:
Currently ranked No. 7 on Princeton Review for Everyone Plays Intramural Sports.
Named as one of the Top 50 Best Intramural Programs of 2015 according to Bestcolleges.com.
Kansas State University ranks No. 2 on the National Collegiate Fitness Index.
Facilities and programs funded by student privilege fees and student supported.
More than 400 students are employed during the academic year.
Recreational Services will launch a new incentive program called the Wildcat Challenge this fall.