August 23, 2016
Voice professor Amy Rosine teaches in Italy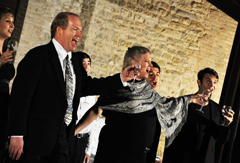 Amy Rosine, associate professor in the School of Music, Theatre, and Dance, joined the faculty of the International Opera Performing Experience, or IOPE, in Mercatello Sul Metauro, Italy, in July.
The program's focus is on opera production in the Italian language, performed in a culturally immersive setting. The program featured two performances: "An Evening of Italian Opera Scenes and Arias" and a staged production of the opera "Gianni Schicchi" by Puccini. Performers were from the U.S. and abroad.
Rosine taught voice lessons, presented a masterclass on expression and singing, taught theatre-craft classes and staged opera scenes. Rosine also performed with Mark Thomsen, international operatic tenor and director of the program.
"Being a part of the IOPE allowed me to witness the results of this program and how it could benefit K-State students as a study abroad experience. It is an extremely beneficial program for performers," Rosine said.