September 2, 2016
Putting a face to a name: Charlotte Self
Submitted by Division of Communications and Marketing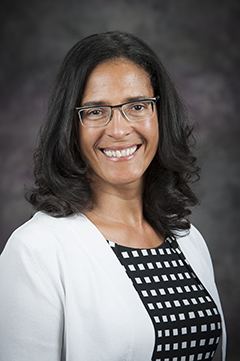 Meet Charlotte Self, K-State's director of employee relations and engagement for Human Capital Services. She is in charge of providing consulting services on employee relations matters, including policies and procedures, leadership development, mediation, dispute and conflict resolution, developmental and performance coaching, team or individual engagements and interventions. Self's unit supports managers and supervisors in creating action plans to address performance and behavioral issues.
A graduate of Manhattan Christian College with extensive training in leadership development, coaching and conflict resolution, Self is eager to serve all levels of university employees, including faculty, professional unclassified staff and university support staff. She also is K-State's employee coordinator for the Americans with Disability Act.
Learn more about Self and how she and her team provide guidance and support so K-State employees can work through conflicts to achieve optimal performance.
What are some of the big changes you hope to or have implemented since you started in this position and how will this affect K-Staters?
One big change the employee relations and engagement unit has implemented and continues to grow is conducting team engagements and interventions. This has been an extremely effective approach for building a more cohesive team and a strategic approach to supporting the K-State's 2025 plan.
What are your goals for improving employment at K-State?
For a healthy and productive workforce, my goal is to empower clients to manage their conflicts with the intent of being solution-focused. I continue coaching and guiding clients as needed, giving them tools and mechanisms that will be sustainable for their organizational health.
How will what you are doing help K-State employees?
Conflict is inevitable and teamwork is extremely hard to achieve and maintain. I firmly believe teamwork is critically important because it not only gives folks a sense of connections and belonging, but also it creates a sense of empowerment and loyalty. The intention of employee relations and engagement is to empower folks and give them tools to manage their conflicts. The result will be an increase in trust, open dialog, accountability and improved performance. They will be able to work through their differences and courageously have open conversation building a foundation of trust. Trust takes courage and work, so it's important to spend time together. We can help bridge and strengthen the relationship between supervisor and employee by focusing on trust and communication.
What keeps you up at night?
One of my StrengthsQuest strengths is includer. In fact, it's my strongest, along with positivity. I have a strong sense of wanting folks to feel included and for them to be part of the K-State community in their respective roles. I am very in tune and aware when folks are feeling left out, thus not feeling a part of the team. As I coach and provide guidance to leaders, individuals and teams, employee relations and engagement work sometimes impacts individuals in ways that lead to making a decision on disciplinary action. This is never easy.
What is your favorite part about K-State?
The energy of students! They are so intelligent. I am continually wowed by what we can learn from them. K-State is an educational environment where one can thrive, grow, develop friendships and find their niche in life. I love the fact that the environment challenges us and is constantly changing. I truly enjoy the opportunity to serve clients, and I am very fortunate to be working with a great team. They are very dedicated to serving clients, and I appreciate their passion and loyalty.