August 2, 2016
Art professor Jason Scuilla completes residence, solo exhibitions in Venice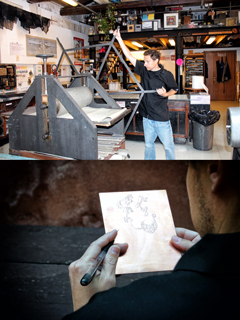 Jason Scuilla, associate professor of art, was international artist in residence this spring at Scuola Internazionale di Grafica di Venezia, a fine art printmaking studio in Italy. The residency provided materials, a stipend, and print shop access for a month as well as a solo exhibition of Scuilla's work and opportunities to lecture and showcase his printmaking technique, the result of a multidisciplinary collaboration at K-State. Two other solo exhibitions in Rome and Orvieto showcased Scuilla's work during his visit.
During the residency, Scuilla created a new print series depicting imaginative reinterpretations of imagery based on ancient ruins. The subject matter is analogous to the technique, because Scuilla has reinvented an old method of making art: His prints are produced with an electrolytic process in which an electric current does the etching on the printing plates, thus eliminating caustic acids and petroleum-based solvents. The prints Scuilla exhibited were the first shown in Italy made with the cleaner, greener and safer process. Scuilla has been improving the process in collaboration with Stefan Bossman, professor of chemistry. A fall 2012 University Small Research Grant helped fund the equipment and materials Scuilla needed to research and refine the technique.
Scuilla said his new work is more ethereal than earlier efforts. He was inspired by the state of "elegant decay" in Venice and his Italian heritage to produce prints with images tied to the lagoon. The inspiration offered by the change in venue demonstrates the value of residencies for artists.
"Venice had a big influence on the work that I didn't expect. That's the value, for me, of traveling and being immersed in a culture and working: I'm living there, experiencing everything, spending uninterrupted hours drawing with a needle onto a copper plate. I was drawing from imagination, but the forms within my imagery began to reference my surroundings," Scuilla said.
Scuilla's Venice residency also opened other opportunities. The Accademia di Belle Arti di Roma has invited him to return and demonstrate his printmaking process, and his artwork is now being represented by a print gallery in Rome. More international collaborations and exhibitions are likely.
Others outside Italy are also eager to hear about Scuilla's unusual printmaking technique. This fall, he will co-chair a panel at the American Chemical Society conference on chemistry in art, the process he's using and how chemists and artists are collaborating at K-State. In spring 2017, Scuilla will host a session at the Southern Graphics International conference, the largest international printmaking gathering, where he will deliver a lecture about how K-State adopted safer, innovative technologies and brought traditional printmaking shops up to contemporary safety standards.
"We did a complete upgrade with state-of-the-art industrial ventilation and are now being recognized nationally and internationally for our commitment to safety, innovation and research," Scuilla said.
"Overall, professor Scuilla's research is an excellent example of blending science, creative activity, and history and is appropriate to the missions of the department, college and university. His energy and creativity combined with his leadership in the printmaking area and his endeavors to connect our students and school to a broader international community are exactly the kinds of activities that deserve our support," said Matthew Gaynor, head of the K-State art department in the College of Arts & Sciences.
Scuilla's effort was supported by the art department and by a University Small Research Grant from the Office of Research and Sponsored Programs in fall 2015. The Marianna Kistler Beach Museum of Art will feature his work in an exhibition titled "Jason Scuilla: Porta Magica" March 14–July 2, 2017, and Scuilla will be the Friends of the Beach Museum of Art gift print artist for 2017.