August 2, 2016
Wildcats fish for success, win national title
Submitted by Division of Communications and Marketing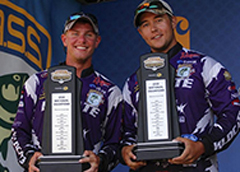 Kyle Alsop, senior in mechanical engineering, and Taylor Bivins, May graduate in wildlife and outdoor enterprise management, are the 2016 winners of the Carhartt Bassmaster College Series National Championship. Alsop and Bivins, members of the Kansas State University fishing team, finished the tournament with 36 pounds and 4 ounces — the only team to bring in more than 10 pounds a day.
The two K-Staters earned a place into the 2016 Carhartt Bassmaster College Classic Bracket by Bass Pro Shops on Aug. 4-6 in Tennessee, $5,500 for their team and an elite Humminbird Helix fish finder.
"I don't think it's really sunk in yet," Alsop said. "It was all so exciting. I'm so happy with the way things ended."
K-State had three teams qualify for the tournament.
"That, in itself, is a heck of an accomplishment, to get three teams to qualify when you've got so many other really great college fishing teams," said Bivins, who currently works in Texas.
This is the second recent large tournament win for K-State. In 2012, Ryan Patterson won the FLW National Championship.
The university's team has about 30 members. Assorted fundraising events and sponsors pay for most of their activities.