June 6, 2016
Suicide prevention, hope are themes of school counselors conference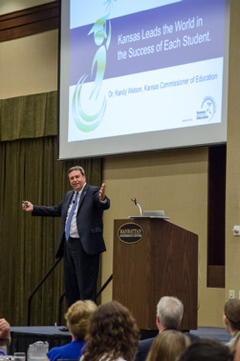 The College of Education hosted a two-day conference for school counselors that included an address from the Kansas commissioner of education, the world's leading research on hope, a father turned activist, and the chair of the board of the American School Counselor Association.
The 2016 Counselors CAN! conference on May 31-June 1 was organized by two members of K-State's department of special education, counseling and student affairs: Judy Hughey, associate professor and 2016 Kansas School Counselor of the Year; and Ken Hughey, professor and chair of the department. Approximately 350 school counselors from across Kansas were in attendance.
Randy Watson, Kansas commissioner of education and K-State alumnus, presented "A New Vision for Kansas — New and Critical Roles for School Counselors." Shane Lopez, Gallup senior scientist and author of "Making Hope Happen" presented "Making Hope Happen in our Schools." Julie Baumgart, board chair of the American School Counselor Association, presented "Advocacy is not a 4-Letter Word" and Clark Flatt, president of The Jason Foundation, presented "Youth Suicide: The Silent Epidemic."
Flatt has made it his life's mission to promote suicide awareness and prevention since July 16, 1997, the day his "All-American son" ended his life. Flatt created The Jason Foundation and has worked to pass the Jason Flatt Act, legislation mandating free, online suicide awareness and prevention for all school employees. Kansas was the 19th state to pass the legislation, and the new law goes into effect Jan. 1.
"School counselors work collaboratively with teachers to enhance students' academic achievement and career success; however, at times social-emotional issues of students need attention for learning to occur," Hughey said. "Many students today have very complicated lives and that's why Mr. Flatt stressed the importance of providing professional development for educators to enhance awareness and prevention of youth suicide."
According to Judy Hughey, the goal of the conference was to empower school counselors with new research and evidence-based strategies that they can implement in their schools. From Flatt's suicide prevention address to Lopez's message of hope and Watson's vision, all are centered around student success.