June 6, 2016
College of Veterinary Medicine honors Elizabeth Davis and Steven L. Stockham with teaching and service awards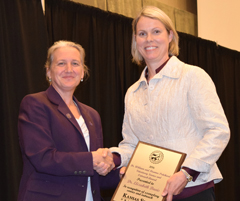 The College of Veterinary Medicine at Kansas State University recently presented two distinguished faculty awards to Elizabeth Davis and Steven L. Stockham at its annual honors banquet.
Davis, professor and section head for equine medicine and surgery, was presented with the 2016 Dr. William and Deanna Pritchard Veterinary Service and Outreach Award. This award was created in honor of Pritchard, a 1946 K-State alumnus who became dean of the College of Veterinary Medicine at the University of California, Davis.
"It is a tremendous honor to have been selected to receive the 2016 Dr. William and Deanna Pritchard Veterinary Service and Outreach Award," Davis said. "Being recognized with an award at this level is humbling. Dr. William Prichard was a pioneer in the field of academic veterinary medicine."
"It is my aim to contribute to K-State's College of Veterinary Medicine as an educator, scientist and clinician," she said. "Working on campus and around the state with organizations such as the Kansas Veterinary Medical Association and Kansas Horse Council give me pride and enthusiasm for veterinary medicine, a true example that we have many opportunities to give back to the profession."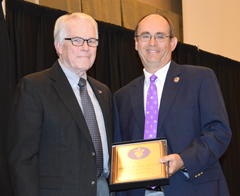 Stockham, professor of veterinary clinical pathology, was presented with the Carl J. Norden-Pfizer-Zoetis Animal Health Distinguished Veterinary Teacher Award. The award is given annually at each veterinary college in the U.S. and is presented to an outstanding teacher who advances the veterinary profession by inspiring students to their highest levels of achievement and professionalism. The recognition is highly respected because the recipient is selected by veterinary students.
"For nearly 40 years, I've had the distinct privilege, great pleasure and professional responsibility of introducing highly motivated and very intelligent veterinary students to the pathogeneses of abnormal laboratory data and the related diagnostic-reasoning skills," Stockham said. "I'm extremely grateful to those who have provided guidance and instruction for methods to improve teaching and learning; especially those involved with the Wakonse Conference on College Teaching. Being recognized for my teaching activities is especially gratifying as I end my academic career at K-State."
"We are pleased to honor both Dr. Davis and Dr. Stockham with these prestigious annual awards within the College of Veterinary Medicine," said Tammy Beckham, dean of the college. "Their contributions as educators and practitioners have advanced our objectives surrounding service and outreach, as well as providing an unmatched learning experience for our students. Dr. Davis and Dr. Stockham have fulfilled their professional responsibilities with distinction."