July 1, 2016
Putting a face to a name: Roberta Maldonado Franzen
Submitted by Division of Communications and Marketing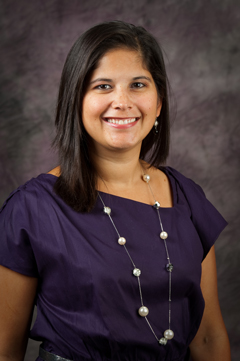 Meet Roberta Maldonado Franzen, Kansas State University's director of talent acquisition for Human Capital Services. She's in charge of the end-to-end hiring process, including change management, applicant tracking system management, recruitment strategies to attract diverse and qualified candidates, interview process, offer process and on-boarding direction.
Her accomplishments at K-State have landed her team a Human Resource Excellence Award from College and University Professional Association for Human Resources Midwest Regional Chapter. This recognition makes the team eligible for a national award.
She earned a master's degree in administration with an emphasis in human resources from Central Michigan University and a bachelor's degree in psychology and a graduate certificate in conflict resolution from K-State. She has gained certification as a professional in human resources and as a Society for Human Resources Management certified professional. While working on her certificate in conflict resolution, she had the opportunity to study abroad in Northern Ireland, where she learned about international conflict and trauma.
Learn more about Maldonado Franzen and how she and her team bring the best talent to K-State in the following Q-and-A:
What are some of the big changes you hope to or have implemented since you started in this position and how will this affect K-Staters?
I led the efforts in reinventing and revitalizing the hiring process that supports faculty and staff positions. I served as the project lead for the kaizen event, which focused on streamlining and automating the hiring process from end to end for all recruitments across the university. The Lean Six Sigma collaborative team methodology introduced to me by the vice president for human capital services resulted in a 58 percent elimination of steps required to hire faculty; a 67 percent decrease in decisions made to hire unclassified professionals; and a 69 percent reduction of rework to hire university support staff. The data also reflect a reduction in time to hire a candidate by more than 50 percent in all hiring work streams. I am excited about this initiative because the department can use new data to drive insight and change to help K-State become a Top 50 public research institution.
What are your goals for improving employment at K-State?
I have three short-term goals that impact the hiring process: 1) finding innovative ways Talent Acquisition can use data to visually share information in a way that tells an easily understandable story and is proven useful to the university community; 2) developing an exceptional candidate experience — when candidates apply for a position and when they accept it and need resources, i.e., access to the library so faculty can continue their research without delay; and 3) supporting and encouraging the Talent Acquisition team's professional development to further collaborate with peer and aspirant universities. As a result of the process improvements in the hiring process, knowledge sharing with peer institutions has been a priority. In the last 12 months, our team has visited with more than a dozen colleges and universities to share our experience with change management, streamlining and automating the hiring process with a Lean Six Sigma approach. Our team has developed and presented several times at national, regional and state conferences on efforts related to hiring faculty and staff. These efforts are highlighting the great things we are accomplishing at the university, which emphasize why K-State should be a university employer of choice.
How will what you are doing help K-State employees?
My team and I are involved in looking at efficient and effective processes for onboarding new hires. A robust onboarding program that welcomes new employees to the university can help new faculty and staff perform highly in their new roles sooner because we are laying the foundation for an organized and productive employment relationship. In the applicant tracking system, the department is automating tasks and responsibilities for newly hired faculty and staff to complete with their supervisors, such as communicating expectations, conducting 30-, 60- and 90-day check-ins, professional development and completing university training.
What keeps you up at night?
Looking for innovative and cost-saving methods to recruit a diverse and highly talented workforce. The department has centralized online advertising costs with The Chronicle, Inside Higher Ed, Higher Ed Jobs and LinkedIn, but there is still much work to be accomplished. Our department is focused on establishing and developing the university faculty and staff recruitment brand via social media and you can follow them on Twitter @KStateJobs and on the Facebook page K-State Jobs. One of the features with the applicant tracking system is that departments can instantly share vacant positions via social media and email to prospective candidates at no cost to the university.
What is your favorite part about K-State?
Working with the Talent Acquisition team on a daily basis. We operate in an open floor plan, which fosters a collaborative work environment. I enjoy being able to discuss issues and work together with other employees to brainstorm solutions. The team is terrific and creative, and I have learned so much from them. My other favorite part about K-State is Purple Pride ice cream made at Call Hall.