June 3, 2016
Putting a face to a name: Meet Gary Leitnaker
Submitted by Division of Communications and Marketing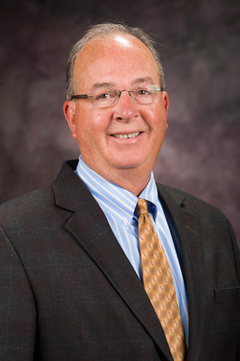 Meet Gary Leitnaker, director of labor relations and special projects for Human Capital Services. He is in charge of issues involving the university's two union agreements, including resolving issues and negotiating new agreements with their representatives.
He has been chair of K-State's threat management team since its inception, he is the Human Capital Services liaison for affinity groups, and he serves as the university representative on the Kansas Board of Regents Retirement Plan Committee. Also, he works on special projects for the vice president of Human Capital Services.
Leitnaker was born and raised in Kansas and obtained bachelor's and master's degrees in business from Emporia State University.
Learn more about Leitnaker and what he's doing for K-State in the following Q-and-A:
What are some of the big changes you hope to or have implemented since you started in this position and how will this affect K-Staters?
For one, I headed up a group of internal Human Capital Services employees in reinstating our "9 Pay 12" program for nine-month faculty. I have led a group of leaders from university support staff, faculty and student senates and our graduate council in rewriting the university's furlough process. I also have been a part of negotiating downward the cost of managing our retirement funds.
What are your goals for improving employment at K-State?
I have recently worked on several K-State policies. Vetting those with our senates to get their input has been a valuable experience as both groups had great ideas. My goal in policy statements is to make them short and to the point, where implementation is easy for all to understand.
How will what you are doing help K-State employees?
We pay very little for management of our retirement funds to TIAA — Teachers Insurance and Annuity Association of America — and Voya Financial. In fact, we pay about 10-15 percent of what most money managers charge. That is a lot of money — tens of thousands of dollars — over time for employees, and our hope is that it makes a positive difference in the retirement they are able to enjoy.
What keeps you up at night?
Not a lot, except hoping the market will not go through another down cycle!
What is your favorite part about K-State?
Working with all of the wonderful people at K-State, labor relations, working with the affinity groups, and working on our retirement funds are my favorite parts of my job.