May 10, 2016
K-State's Intercollegiate Horse Show Association Hunt Seat Equestrian Club team places 12th at nationals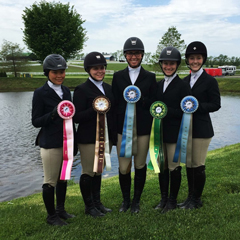 The K-Sate Intercollegiate Horse Show Association Hunt Seat Equestrian Club team attended the association's national competition May 5-8 in Lexington, Kentucky.
The team was represented by six members who led them to 12th place overall.
Hayley Banister, team captain, placed sixth in the open flat and 11th in the Cacchione Cup.
Helen Carter, a rider, earned fifth in walk/trot/canter for the team.
Kaylea Nemechek, the club's president, finished 10th in walk/ trot.
Emily Keena, freshman, placed eighth in intermediate fences.
Brooklynn Otte earned 10th in novice fences.
Overall, it was a wonderful weekend in Kentucky and the club looks forward to working toward nationals 2017.