May 4, 2016
From the VP for research: Introducing Seek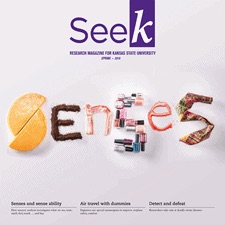 Dear Colleagues,
I'm very pleased and proud to announce the release of Seek, K-State's new flagship magazine showcasing our range of research, scholarly, and creative activity and discovery. The magazine is available online through New Prairie Press at the K-State Libraries as a series of PDF files. You may also experience the publication on the new Seek Magazine website.
This new research magazine represents a collaborative effort by the Division of Communications and Marketing, the Office of the Vice President for Research, and communicators from other units across our campus. Five in-depth feature stories help readers "See" what "K"-State has to offer in sensory analysis, air cabin research, geosciences, fighting swine diseases, and technology and aviation at Kansas State Polytechnic. Other pieces offer brief snapshots of recent successes and profiles of students and faculty whose RSCAD is making a difference both on campus and beyond in areas such as linguistics, cyber-physical systems, American art, Shakespeare scholarship, preservation of Taos Pueblo Native American culture, and semiconductors and ultraviolet light-emitting diodes.
The look of this publication is as engaging as the stories it tells: it's sleek, inviting, and contemporary. In short, it's a fabulous vehicle to communicate K-State's RSCAD successes as we pursue our goal of becoming a Top 50 public research university by 2025. I hope you'll enjoy reading it as much as I did. Finally, a special thanks to all those who made this new publication possible; this was a group effort!
Regards,
Peter Dorhout