May 2, 2016
K-State Libraries faculty awards, publications and presentations
Submitted by Sarah McGreer Hoyt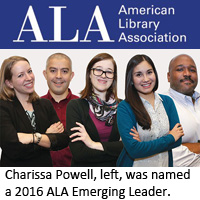 K-State Libraries faculty members reported the following awards, publications, presentations and professional recognition in the first four months of 2016:
Awards
Sara Kearns and Joelle Pitts, both associate professors, received the 2016 ACRL Instruction Section Innovation Award for creation of the New Literacies Alliance, or NLA. The NLA, a collaboration with the KU Medical Center Library, advances open access online information literacy education.
Charissa Powell, assistant professor and undergraduate experience librarian, was recently selected as a 2016 American Library Association, ALA, Emerging Leader. She received a $1,000 sponsorship from the International Relations Round Table. The Emerging Leaders program includes orientation and training and continues in an online learning and networking environment for six months. It culminates with a poster session where participants showcase the results of their project during the ALA 2016 Annual Conference.
Publications
Presentations, etc.
Tara Coleman, associate professor, presented a poster "Trickle Down Engagement in First-Year Common Reading Programs" with Donald Saucier and Stuart Miller at the annual conference on The First-Year Experience in Orlando, Florida, on Feb. 21.
Amanda Harlan, assistant professor, and Dhanushka Samarakoon, lead programmer, Library IT Services, presented a lightning talk, "Bridging the Communication Gap Successfully for Library/IT Projects," and a poster, "Workflow Management System: A Customized Solution for Project Automation and Tracking," at the Kansas Library Association, College and University Libraries Section, spring conference in Manhattan on April 21-22.
Casey Hoeve, assistant professor, presented "Digital Humanities in the Heartland: Using Librarians to Disseminate Popular Scholarly Topics in Rural Areas" at the Popular Culture Association National Conference in Seattle on March 24.
Hoeve also moderated six panels at the same conference and was named co-chair of the Libraries, Archives, Museums, and Popular Research subject area.
Christina Geuther presented "Into the Breach: Using Electronic Resources Responsibly" at the Kansas Library Association, College and University Libraries Section, spring conference in Manhattan on April 22.
Mike Haddock presented "Kansas Wildflowers and Weeds: Concept to Book" to the Manhattan chapter of the National Active and Retired Federal Employees Association on March 16.
Laurel Littrell, professor, was elected second vice president of the Kansas Library Association for a one year term, which will be followed by a year as first vice president. She will serve as president in 2018.
Allison Ringness, assistant professor, presented "Manual Not Included: Technical Services Librarians Developing Digital Curation Workshops for the Community" at the Kansas Library Association, College and University Libraries Section, spring conference in Manhattan on April 22.
Ringness also presented the webinar "Reel Challenges: Digitizing Microfilm for Long-Term Curation" for the American Libraries Association Digital Curation Interest Group on April 21. She also co-hosted the workshop "Scanning and Enhancing Photos for Preservation and Reuse" with Tom Parish on April 22.
Keli Rylance, assistant professor, presented "Architects & Undertakers: Architectural practice in antebellum New Orleans" at the Williams Research Center Symposium in New Orleans on Feb. 20.
Ellen Urton, associate professor, presented "Design/Build: Embedded Librarians Create Connections from First Year to Master's Reports in the APDesign Curriculum" at the annual conference of the Association of Architecture School Librarians in Seattle on March 11. Thomas Bell, associate professor, was co-author.