May 2, 2016
Call for 2016 fall Week of Welcome events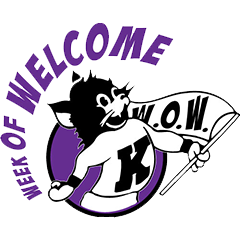 It's that time of the year and the Office of Student Activities and Services is starting to plan for the fall Week of Welcome. We are hoping to get all of the events planned during the Week of Welcome listed on our schedule. Whether you've planned a previous event and are hosting it again or you are considering starting a new event, we'd like to know.
K-State offices, departments and colleges: This form is for official Kansas State University events. We'd like to have the events by May 20 if possible. As always, we will add events throughout the summer, but can't guarantee inclusion on the first round of materials for orientation and enrollment. If we can be of any assistance as you try to schedule or plan your event, let us know. We are happy to help.
Student organizations: A separate calendar will be available for welcome back events student organizations have planned for the first couple of weeks of school. If your student organization has an event planned, please use this form to let us know about it. There is no need to list the Activities Carnival as an event, as it will be promoted campuswide.
If you have any questions about the Week of Welcome, please contact the Office of Student Activities and Services at 785-532-6541 or wow@k-state.edu.