March 13, 2012
Music education professor presents at state and national conferences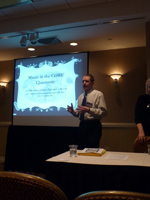 Phillip Payne, assistant professor of music education, presented sessions at state and national conventions in recent weeks.
On Feb. 24, he presented three sessions and co-authored a fourth at the Kansas Music Educators Association In-Service Workshop in Wichita. The sessions were titled "Seven 'Simple' Standards," "Balancing the Budget Crisis," "Connecting Your Music Program with the Community" with colleague Frederick Burrack, and "Where to Go From Here," co-authored with Burrack, who is an associate professor of music.
At the National Association of Professional Development Schools' 2012 Professional Development Schools National Conference, March 9 in Las Vegas, he presented "Music In the Middle School: Music Education Students in the CORE Classroom" with colleagues Jana Fallin, professor of music education, and LouAnn Getz, instructor of curriculum and instruction.