March 31, 2016
Reminder: Retired Col. George Dilly presents 42nd annual Grace Shugart Lecture today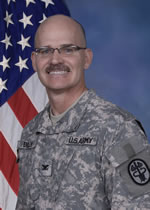 Kansas State University alumnus retired Col. George Dilly will present "Military Life: Kansas State Alum Reflects on a 30 year Career as Army Dietitian" at 4:15 p.m. March 31 in the Leadership Studies Building's Town Hall.
Dilly is a 1998 K-State graduate who earned a doctorate from the College of Human Ecology with a focus in food service and hospitality management. Before coming to K-State, Dilly received a master's degree in education and national security strategy, which equipped him to manage more than 150 active duty army dietitians. Upon his retirement from the army, Dilly served as the U.S. Army's medical command chief dietitian and nutrition program manager.
The lecture is open to the university and community. Read more information about the Shugart Lecture series or view a live stream of retired Col. Dilly's presentation online.
Please join us in Hoffman Lounge in Justin Hall for a reception following the lecture.