March 30, 2016
Award-winning author Kristin Cashore to speak on Saturday, April 2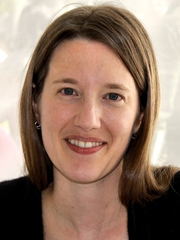 Award-winning author Kristin Cashore will be the keynote speaker for the fifth biennial interdisciplinary conference on children's literature in English, Education and Library Science on Saturday, April 2.
Cashore is the author of New York Times bestsellers "Graceling," "Fire," and, most recently, "Bitterblue," all of which have been named ALA Best Books for Young Adults. "Graceling" is the winner of the 2009 Mythopoeic Fantasy Award for Children's Literature, and "Fire" is the winner of the Amelia Elizabeth Walden Award.
"When you read one of Kristin Cashore's fantasy novels, you find yourself immersed in a page-turner that asks big questions about love, power, and choice," said Philip Nel, university distinguished professor of English and director of the program in children's literature.
"Cashore writes characters you care about, and lets them face the kind of difficult, life-altering decisions that make for a great story, and explore the fundamental questions of being human. I've admired and taught her books for about five years now, and I'm excited to hear her in person."
Corinne Matthews, co-president of the Children's and Adolescent Literature Community, agrees.
"As both a scholar and a fan, I'm especially excited to hear Kristen Cashore speak. Her books have played an important role on my understanding of how issues like trauma, class issues and female empowerment can be gracefully addressed in YA fantasy, and I can't wait to hear her talk about them."
This year's conference theme is "Truth, Memory, and Power in Children's and Young Adult Literature." In addition to Cashore's keynote lecture, the conference features presentations by Vicki Sherbert, assistant professor in the College of Education; Melendra Sutliff Sanders, Children's Consultant, North Central Kansas Libraries; and three graduate students in English.
Conference attendance fulfills requirements for "Service to the Profession: Professional Growth" for undergraduate students in education.
More information about the conference, which runs from 9 a.m. to 2:30 p.m., is available online.
The conference is free and open to students, faculty and community members, but space will be limited, so advance registration is highly recommended.
To reserve your free conference registration, visit the conference website.
The conference is sponsored by the Children's and Adolescent Literature Community and the Department of English.