March 30, 2016
Lecture by Farah Jasmine Griffin on women, art and politics in World War II on Friday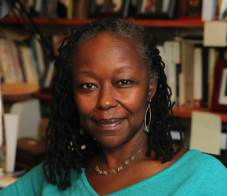 Scholar Farah Jasmine Griffin will present her lecture "Women, The Arts, and Politics During World War II" at 4 p.m. Friday, April 1, in the Hemisphere Room of Hale Library.
The talk is free and open to the public.
Griffin is the William B. Ransford professor of English and comparative literature and African-American studies at Columbia University, where she has served as director of the Institute for Research in African-American studies.
In addition to editing several collections of letters and essays, she is the author of "Who Set You Flowin': The African American Migration Narrative," Oxford, 1995; "If You Can't Be Free, Be a Mystery: In Search of Billie Holiday," Free Press, 2001; and "Clawing At the Limits of Cool: Miles Davis, John Coltrane, and the Greatest Jazz Collaboration Ever," Thomas Dunne, 2008.
Her most recent book is "Harlem Nocturne: Women Artists & Progressive Politics During World War II."
Tosha Sampson-Choma, assistant professor of English and organizer for Griffin's visit, found inspiration for her dissertation in Griffin's work and values the significant contributions that Griffin has made to scholarship in literature, music, history and politics.
"Griffin's comparative scholarship has made an incredible contribution to American and African American studies, and her reputation and influence are far reaching. Her work is frequently featured in the New Yorker, The New York Times, Harvard Review, on NPR and in an array of media outlets. She has written scripts for pieces performed at the Apollo Theater in New York as well as served as host and interviewer for various conversations with leading writers and scholars," Sampson-Choma said.
"Griffin's love and knowledge of the arts are reflected in her numerous publications on key figures," Sampson-Choma added. "She is a highly sought-after speaker and a leading scholar, award-winning teacher and well-respected spokesperson and activist, and we are fortunate to host her visit to Kansas State."
Griffin's lecture is sponsored by the English department and the College of Arts & Sciences' Diversity Committee.