March 29, 2016
College of Education creates pathway to teaching for college graduates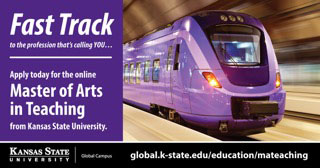 The College of Education at Kansas State University is accepting applications for a unique path to the classroom for college graduates nationwide who want to become elementary school teachers. Scholarships are available for those planning to teach in underserved schools in Kansas. Classes begin in May.
The Master of Arts in Teaching, or M.A.T, is an intensive, one-year online degree specifically designed for people who have already earned a bachelor's degree but want to pursue their dream of teaching. This pathway enables qualified Kansans and residents of other states to earn the degree in 12 months and be recommended for Kansas' initial teacher licensure in grades K-6. The rigorous curriculum is delivered by online coursework, and field experiences are arranged in accredited elementary schools convenient to students in the program. Once out-of-state students pass the Kansas licensure exam, they can seek licensure in their home state.
Debbie Mercer, dean of the College of Education, believes this innovative program can help address the state's and nation's projected teacher needs while maintaining high professional standards.
"The college frequently receives inquiries from college graduates who want to become teachers but there has been no path available to them, other than the bachelor degree in education," Mercer said. "Now, they have a road to that goal from a trusted, cost-effective program that has prepared teachers for more than 150 years."
Thomas Vontz, professor of curriculum and instruction, said that another innovative aspect to the degree program is the Kansas Transitions to Teaching, or KTTT, project that will provide a $6,000 fellowship and funding to purchase necessary technology for 30 career changers from underserved school districts in Kansas. KTTT fellows must complete the program, obtain the necessary licensure and engage in full-time teaching in an underserved geographic area in Kansas within six months of licensure. The college has partnered with school districts in Great Bend, Kansas City, Topeka, Dodge City, Garden City and Liberal for the KTTT project.
"The M.A.T. and KTTT have mitigated many of the financial, educational and geographic obstacles that previously prevented passionate people from becoming educators," Vontz said. "The KTTT is especially beneficial for people interested in teaching in underserved districts in Kansas."