March 25, 2016
K-State alumnus to discuss negotiating in job interviews at entomology seminar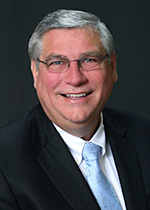 David Wright will present "Getting to 'Yes' in the Job Interview," at 4 p.m. Monday, March 28, in 231 Waters Hall. All are welcome to attend and refreshments will be provided prior to the seminar.
Wright received his doctorate in agronomy from K-State and is now head of the plant science department at South Dakota State University. Prior to joining South Dakota State University, he was a visiting professor at Iowa State University in the agronomy department. He was responsible for fostering strategic public/private research partnerships and multidisciplinary research teams for the College of Agriculture and Life Sciences.
For 11 years, Wright worked as director of Contract Research and Strategic Initiatives at the Iowa Soybean Association. He managed a competitive grants program investing $8.3 million annually to support problem-solving research at land-grant universities around the U.S. and for the U.S. Department of Agriculture. He also provided national leadership to the soybean research and extension community and several state, regional and national checkoff boards.