March 7, 2016
Goins creates guitar program for children in Manhattan community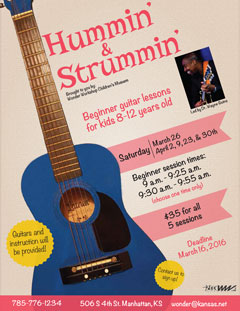 Wayne Goins, university distinguished professor of music and director of K-State Jazz Studies, developed Hummin' & Strummin' guitar school, a community music program for children in the city of Manhattan.
Goins donated 20 guitars — specifically built for small hands — to Richard Pitts, director of the Wonder Workshop Children's Museum. Goins will teach an hour lesson every Saturday morning beginning March 26 for children ages 8 to 12. Lessons are assisted by K-State jazz student Aliyah Stephens, who received lessons from Goins on guitar, bass and piano.
For more information, contact Goins at weg@k-state.edu or call 785-776-1234.