March 7, 2016
Georgia Tech professor to deliver Phi Beta Kappa Visiting Scholar address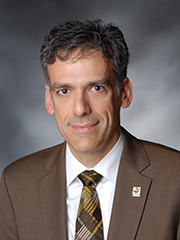 Rigoberto Hernandez, professor in the School of Chemistry and Biochemistry at Georgia Tech, will deliver a public lecture "Lost in Projection" at 7 p.m. March 21 in the K-State Student Union's Flint Hills Room. He will discuss how we each negotiate the frames projected upon us by others, drawing on his own career trajectory as a Cuban-American scholar.
Hernandez is visiting the K-State campus as the K-State chapter of Phi Beta Kappa's 2016 Visiting Scholar.
"The Visiting Scholars program is a great opportunity for K-State students and faculty from across campus to interact with brilliant interdisciplinary scholars who embody the Phi Beta Kappa ideal of a broad and deep liberal arts education," said Laura Kanost, associate professor of Spanish and president of the K-State Phi Beta Kappa chapter.
In addition to teaching at Georgia Tech, Hernandez is co-director of the Center for Computational Molecular Science and Technology, and director of the Open Chemistry Collaborative in Diversity Equity. A fellow of the American Physical Society, the American Association for the Advancement of Science, and the American Chemical Society, he is recipient of the chemical society's 2014 Award for Encouraging Disadvantaged Students into Careers in the Chemical Sciences.
The Phi Beta Kappa national association began the Visiting Scholars Program in 1956, offering chapters around the nation access to some of America's most distinguished scholars. The purpose of the program is to contribute to the intellectual life of the campus by making possible an exchange of ideas between the Visiting Scholars and the resident faculty and students.
Founded in 1776, Phi Beta Kappa is the nation's oldest academic honor society and is the nation's leading advocate for the liberal arts and sciences at the undergraduate level. Fewer than 10 percent of the nation's colleges and universities have chapters.
K-State's chapter of Phi Beta Kappa was founded in 1974. Additional information about the Visiting Scholar Program, including a detailed description of Hernandez's speech, can be found at k-state.edu/pbk/scholar.