February 10, 2016
2015 Paris Climate Conference: K-State participant Bimal Paul to share background and outcomes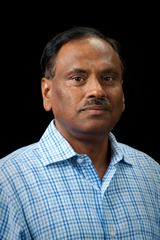 Bimal Paul, professor of geography, served as an official representative of Bangladesh at the recent 2015 Paris Climate Conference in Paris, UNFCCC COP21. The K-State Climate Change Interest Group invites anyone interested to join a discussion with Paul at 10 a.m. Friday, Feb. 12, in Room 227 of the K-State Student Union.
The 2015 Paris Climate Conference, reached a landmark accord on an issue that has foiled decades of international efforts to address climate change. The 195 nations that participated in the COP21 agreed to keep global warming below 20 C or 3.60 F from preindustrial time.
By 2020, these countries are required to release their long-term plans to cut emissions. Every five years, countries will reassess their progress and adjust their carbon cutting goals. Although past international efforts to combat climate change, such as the 1997 Kyoto Protocol, COP3, and the 2009 Copenhagen Summit, COP15, fell short because the countries could not unite around such a deal, the success of the Paris accord largely depends on whether countries follow through.
Additionally, provisions of the accord are not due to take effect until 2020. Moreover, no country is legally bound to sign the agreement. This presentation will begin with providing background and organization of the Conferences of the Parties, COPs, followed by Paul's personal impressions of the processes behind the scenes.
The presentation will conclude with a critical overview of the outcomes of Paris Climate Conference.