January 15, 2016
K-State faculty receive prestigious national arts award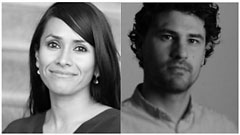 Kansas State University faculty members April Bojorquez and Matt Garcia have received the prestigious Creative Capital Award to expand their work examining relationships between art, ecology and society specifically dealing with growing dryland zones.
The Creative Capital Award is one of the top honors in contemporary art. The award includes up to $95,000 in funding and resources, $50,000 in direct funding and additional resources, and advisory services valued at $45,000. Drawing on venture-capital principles, Creative Capital seeks out artists that are bold, innovative and genre-stretching, then surrounds those artists with the tools they need to realize their visions. In 2016, Creative Capital funded 46 projects awarding nearly $4.4 million dollars of grants to artists. Since 1999, Creative Capital's awards program has committed nearly $40 million in financial and advisory support to 511 projects representing 642 artists.
Garcia is an assistant professor of digital/experimental media in the K-State art department. His artistic practice investigates ecology, its relationship to knowledge systems and how media can connect communities to a reclaiming or reimagining of lost epistemology. Garcia's work has been presented nationally and internationally at venues such as Ecole Nationale Supérieure des Beaux-Arts, Paris France; International Symposium on Electronic Art, Vancouver, Canada; European Research Network Sociology of the Arts, Vienna, Austria; Balance-Unbalance Festival, Noose, Australia; and Humanities, Arts, Science, and Technology Alliance and Collaboratory, or HASTAC, Lima, Peru.
Bojorquez is a faculty member in the American ethnic studies department and an assistant curator at the Marianna Kistler Beach Museum. Formerly, she was the curator of art at the National Hispanic Cultural Center and a fellow of the Smithsonian Institution's Latino Museum Studies Program. Bojorquez works within the intersection of art and anthropology. She has worked in the museum field nationally and internationally, exploring new approaches to museum practices in an increasingly multicultural society. Influenced by participatory practices and social sculpture, Bojorquez employs diverse strategies to produce immersive and interactive environments exploring place, identity and museum practices.
A reception will recognize the award winners from 5-6 p.m. Wednesday, Jan. 20, in 117 Willard Hall.
For more information, contact Garcia at mattgarcia@k-state.edu.