November 17, 2015
Phillips 66 Business Ethics Case Competition awards $2,750 to K-State students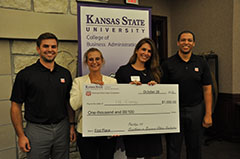 Five teams of Kansas State University students were awarded $2,750 in cash prizes as part of the recent Phillips 66 Business Ethics Case Competition, a collaboration between the university's College of Business Administration and Phillips 66.
The competition saw 55 teams made up of two to four students putting their skills to the test by completing a written analysis of a complex business ethics case study. Their analysis and recommendations needed to incorporate important ethical principles while balancing with the bottom line of the business and its financial goals.
After submitting their written analysis, the teams' responses were ranked, and the top five teams were selected as finalists to present their final report to a panel of judges.
"The case competition provides students with a good opportunity to examine a real-world issue while balancing both ethical and business/financial considerations," said William Turnley, the Sam and Karen Forrer chair in business ethics and interim head of the department of management. "We are very grateful to those who so willingly gave their time and resources to allow us to provide students with this opportunity."
Taking first place and a $1,000 prize was the team of Helen Tacke, senior in business, Leipzig, Germany, and Hannah Schwefer, senior in business, Hanover, Germany.
In second place, with a $750 prize was Kayla McKinney, senior in entrepreneurship, Englewood; Pricilla Enriquez, senior in management, Liberal; and Erica Gonzales, senior in marketing, Overland Park.
Finishing in third place and $500 was the team of Shawn Moore, senior in management, Council Bluffs, Iowa; Zach Bailey, senior in entrepreneurship, Overland Park; and Mackenzie Selzer, senior in accounting, Leawood.
Two teams also earned honorable mention honors, and a $250 prize. The first honorable mention team was made up of Courtney Brownlee, senior in marketing, Shawnee; Lucas Munds, senior in management, Hutchinson; and Ronesha Cobb, senior in marketing, Manhattan. Members of the second honorable mention team were Daniel Kroeker, senior in management, Inman; Justin Reilly, senior in accounting, Salina; and Connor Kelley, senior in accounting, Lenexa.