September 23, 2015
Tickets available Wednesday, Sept. 23, for lecture by KSBN author Wes Moore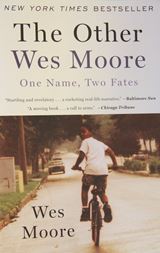 On Wednesday, Sept. 23, tickets will be available for the lecture by Wes Moore, author of the 2015 K-State Book Network selection "The Other Wes Moore."
Moore will speak at 7 p.m. Wednesday, Oct. 14, in McCain Auditorium. The event is free but requires a ticket.
Tickets — one per person — will be available starting today from the McCain Box Office to members of the K-State community with a K-State Wildcat ID. The box office is open 11:30 a.m. to 4:30 p.m. Monday-Friday.
Students enrolled in a First-Year Seminar or CAT Community course this fall should consult with their instructors first before picking up a ticket at McCain.
Also as of today, a limited number of tickets will be available to members of the Manhattan community from the Manhattan Public Library, second floor reference desk. Visit the library's website for building hours and location.
To request an examination copy of the 2015 selection to use for a class or program, contact ksbn@k-state.edu.