September 1, 2015
K-State Salina professor's inaugural book named finalist in national WILLA Literary Awards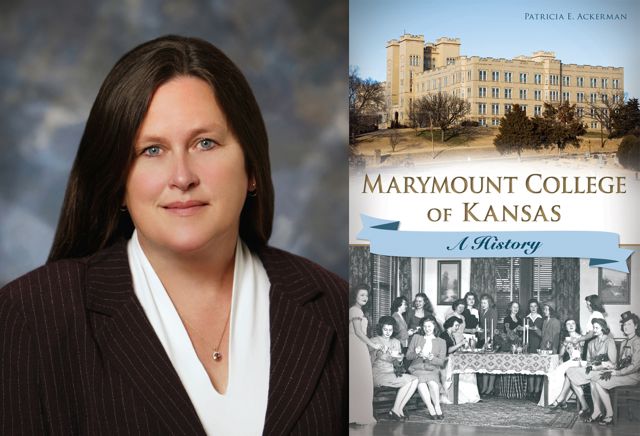 After releasing her inaugural book 10 months ago, Kansas State University Salina language arts professor Pat Ackerman is being honored by the 2015 WILLA Literary Awards.
Ackerman's book "Marymount College of Kansas: A History" has been named a finalist in the scholarly nonfiction category. The story, released on Nov. 18, 2014, follows the institution's paper trail, from its founding days to highlighted moments like John F. Kennedy's visit in 1959 as part of his precampaign tour for the presidency. Ackerman, a 1978 alumna of Marymount College, wrote the book during her university sabbatical.
"It is a tremendous honor for my first book to receive such a prestigious national award," said Ackerman. "Marymount College altered the course of my own young life, and it has been an honor to research, write and share this story."
The WILLA Literary Awards are presented annually by Women Writing the West, a nonprofit association of writers and other literature oriented professionals who write about and promote women's or girls' stories set in the American West. Other award categories include contemporary fiction, historical fiction, original softcover fiction, creative nonfiction, poetry and children's/young adult fiction and nonfiction. The award winners and finalists are selected by women writers who also work as professional librarians, historians and university affiliated educators.
Initially, Ackerman, who also is a freelance writer, was interviewing the Marrs family — current Marymount residents who purchased part of the property in 1993 — as part of a story she was working on for Sunflower Living magazine. The Marrs family mentioned to Ackerman that Marymount College is filled with one-of-a-kind stories that belong in a book. Once she began digging deeper into its past, Ackerman realized Marymount College's story was one she had to tell.
The Sisters of St. Joseph migrated to Concordia, Kansas, from France in the late 1800s and decided, in the midst of their overcrowded female boarding school, they also needed another facility to educate the nuns who were teaching the girls. Salina was the chosen location and building began on what would be Kansas' first all-women's college.
"The Sisters of St. Joseph were an integral part of educating women across the western frontier," said Ackerman. "Hundreds of women graduated from Marymount College and went on to become nurses, educators, artists and professionals; changing cultural norms about what it meant to be a woman in America."
Marymount College closed in 1989.
Ackerman is a first-generation college student who completed a bachelor's degree in English and journalism from Marymount College and obtained her master's degree in liberal studies with a specialization in composition and rhetoric from Fort Hays State University. She has a doctorate in curriculum and instruction, with an emphasis in reading and language arts, from Kansas State University's College of Education. Ackerman started teaching at K-State Salina in the fall of 2000; she was the director of the campus's Writing Center for six years and currently serves as the coordinator of the Faculty Resource Center.
Ackerman will be honored Oct. 9-11 during the Women Writing the West annual conference in Redmond, Oregon.