September 1, 2015
K-State pep rallies at the Kansas State Fair Sept. 13
Submitted by Communications and Marketing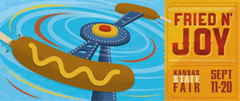 Kansas State University will host two pep rallies at noon and 5:30 p.m. Sunday, Sept. 13, at the 2015 Kansas State Fair in Hutchinson.
The K-State Band with Frank Tracz, Willie the Wildcat and the cheer squad will perform at Lake Talbott Stage. Pat Bosco, vice president for student life and dean of students, will be the speaker. Willie will make appearances around the fairgrounds throughout the day.
The theme of the 2015 Kansas State Fair is "Fried n' Joy," which will be Sept. 11-20. The fair annually attracts approximately 350,000 people from all 105 Kansas counties and several other states. The fair's mission is to promote and showcase Kansas agriculture, industry and culture, to create opportunity for commercial activity, and to provide an educational and entertaining experience that is the pride of all Kansans.