August 31, 2015
Program for new teachers featured on KMAN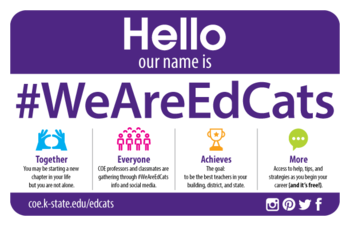 A new program in the College of Education will be the topic of discussion on a local radio show this morning.
Tonnie Martinez, assistant professor and coordinator of the Ed Cats program, will be interviewed by local radio personality Cathy Dawes on KMAN 1350 AM today at 9:40 a.m.
Martinez will discuss the creation of the Office of Innovation & Collaboration and its programs designed for teachers within the first three years in the classroom. More specifically, she will talk about the Ed Cats program, the college's effort to retain highly qualified teachers in the classroom.
"What many people don't understand is how crucial mentoring is for beginning teachers and how effective it can be when it comes from our faculty members whom they know and trust," Martinez said.
For more information about Ed Cats, please visit the Ed Cats Website, watch this video, or search for WeAreEdCats on Twitter, Facebook, Pinterest and Instagram.