August 31, 2015
APDesign and School of Music, Theatre, and Dance collaborate to produce 'Les Misérables'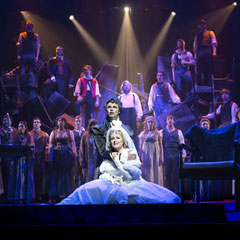 As the spring semester drew to a close in May, the College of Architecture, Planning & Design, or APDesign, and School of Music, Theatre, and Dance were hard at work producing a professional theatre production of Les Misérables.
Ben Stark, managing and technical director, led a group of faculty and students to design and fabricate scenic parts for a production produced at the Pennsylvania Shakespeare Festival in Center Valley, Pennsylvania. Richard Thompson, instructor in architecture, planning, and design, assisted the project in programming and cutting various pieces using the college's CNC router. Once the pieces were cut, theatre students assembled and prepared them for shipment.
The production opened on June 12 and ran for 22 sold out performances. More than 10,700 patrons attended during the run.
"This is the second time we've worked together; it's a great collaboration that allows us to produce more complex scenery in less time," Stark said.
In addition to building pieces for the production on campus, theatre majors Andrew Rodriguez, Emily White, Kristin Kelley and Lindsay Brown traveled to Center Valley to work for the Shakespeare Festival in positions in carpentry and stage management.